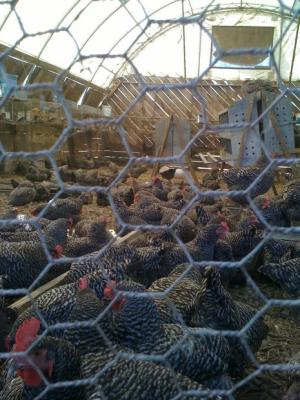 Chicken Wire Mesh not Just for Chickens
July 22, 2016
Today, chicken wire mesh is used in different applications. It also appears in many of today's daily activities. The filters which are used in kitchens, waste baskets, window screens in houses and fences in the garden also make use of varieties of chicken wire mesh. Wire mesh has become a familiar term for those engaged in appliance design since they often have to make use of wire goods for different projects.
The importance of chicken wire mesh should not be underestimated. The flexibility of the material has made it a very useful and valuable product. With its ductility and strength, it cannot be easily destroyed. Its most common application is in bird cages and chicken coops. Since it has a robust property, it is able to endure the harsh weather changes. It also protects your livestock from different intruders like wild animals and other predators. It will also keep your animals safe without obstructing a good flow of ventilation which is a very important requirement in maintaining a healthy growth of your livestock. Chicken wire mesh is also able to endure pressure which animals may apply. With the help of the chicken wire mesh, you can ensure that your livestock is kept in place. Additionally, it can be produced rust- and corrosion-resistant.
Great restaurant, and I love the decor!
Posted by: Patrick L. | August 28, 2017, 4:00 pm
I've had the pleasure of eating at Nightingale - really lovely decor, the food was delicious and the staff warm. It's so cool to see Ferrier Design involved in such a high profile project, congrats!
Posted by: Ben R. | July 25, 2017, 11:15 am
*** Your email address will not be published.