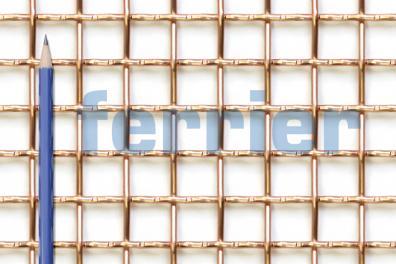 Choose Decorative Woven Wire Mesh
November 07, 2016
Most people prefer decorative woven wire mesh because it provides maximum functionality while retaining a natural aesthetic appeal trough its variety of styles and weaves. It not only gives a break from the traditional wire mesh products but also offers an exclusive sense of style and quality. These products differ in strength and functionality and are made from a range of metals including copper, stainless steel, welded wire mesh, and brass. They are a result of an intense amount of work that often involves close attention to detail and talent. Specially shaped wires are fed into standard wire designs, creating results that are highly decorative. Even the packaging of these products comes with its own share of challenges but Ferrier Design strives to prevent damage by using backed cardboards with corner protectors, and other packaging precautions.
Brass decorative woven wire mesh is used almost exclusively on indoor applications. It complements other brass accents in the home decor. Pure brass has the colour of a new key that can tarnish over time. It can therefore be backed by a shine to increase its shelf life. Plated stools have a unique finish that is protected by a smooth lacquer coat.
Bronze decorative woven wire mesh can be used both indoors and outdoors. Indoors, it is used in entertainment centres and cabinets while outdoors it's used in motif applications and vent frills.
If you've shopped around, you might have seen the double diagonal decorative woven wire mesh. They are an ideal choice for bookcases cabinets, as well as window panes. Single diagonal meshes have wires knit at 45 degrees to the panel edge. The clipped wires are interlinked to prevent slipping, and are available in nickel, bronze, brass and antique styles.
The strength of your decorative woven wire mesh depends on the type of material used as well as the diameter of the wire. Common applications range between ½ inches to 3 inches.
Call Ferrier Design today to find out what options for decorative woven wire mesh we have for you!
No comments yet...
*** Your email address will not be published.