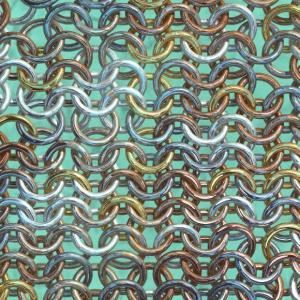 Copper mesh: Your companion for home and industry
August 19, 2016
Copper mesh is a specialty class of wire mesh designed from an environmentally friendly material: copper. In this specialty class of meshes, the grains of the mesh can be classified into three categories: fine, medium and coarse, all depending on the mesh openings. The use of the mesh is also highly dependent on mesh openings as a core indicator of how suitable it would be for a particular application. Moreover, copper gauges used in making the mesh may also differ to reflect the use and other desired features.
Knitted copper mesh has a diversity of applications, the most common being keeping away birds and rodents. With its easy-to-cut structure, the mesh can be easily trimmed into shape and size using a knife or a pair of scissors, making it useful in making garden traps for insects and pests. Or, to give you another instance, you might want to have a screen for your fireplace. If that is the case, this is the right mesh for you. Besides, the red-orange mesh offers a naturally attractive look and can be used in making both in-house and outdoor décor. With copper being an excellent conductor of electricity, the meshes made from copper are used as electromagnetic shielding.
Soft, rust-free, non-magnetic and non-sparking copper meshes are industrially useful in cleaning extrusion equipment and pump injection moulds for a diversity of industries. Their use is primarily guided by the fact that copper does not burn or smoke when laid on hot surfaces. For optimal results, more dense patterns are highly recommended as they confer more cleansing effects on the surfaces. It is also advisable to use wires with higher diameter when anticipating higher stains on the surface, as this increases the frictional surface area while reducing wear and tear on the copper mesh.
No comments yet...
*** Your email address will not be published.