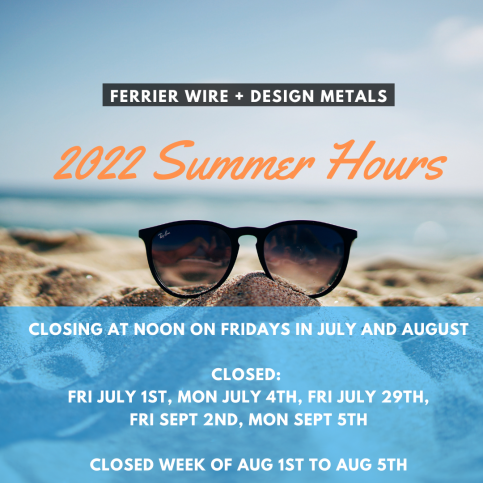 Ferrier Wire + Design Metals: Summer Hours 2022
June 08, 2022
Ferrier Wire + Design Metals would like to inform our valued customers about the modified working hours during the summer of 2022.
We will be closing early on the following days:
CLOSING AT NOON ON FRIDAYS IN JULY AND AUGUST
We will be closed for business on the following days:
FRI JULY 1ST

MON JULY 4TH

FRI JULY 29TH

FRI SEPT 2ND

MON SEPT 5TH

MON AUG 1ST TO FRI AUG 5TH
We would like to extend our hearty wishes for a safe and wonderful summer with your loved ones!
No comments yet...
*** Your email address will not be published.
Contact form