Blog
Blog
Ferrier Wire and Design Metals offers a wide variety of wire mesh (weavemesh and weldmesh), perforated metals (design and round hole pattern) and expanded metals for use in a wide variety of industrial, architectural and design applications. Please contact us to see if we can assist you with your requirements and or would be interested being the subject of a blog post.
FERRIER WIRE NEW ARABESQUE PERFORATED METAL PATTERN
January 27, 2023
FERRIER WIRE NEW ARABESQUE PERFORATED METAL PATTERN
Ferrier Wire and Design Metals are proud to introduce our new design perforated metal pattern "Arabesque"
The pattern has a middle eastern influence and is meant to conjure up images of Morocco and Casablanca. The purpose of this article is to discuss the creative process, the manufacturing of, and applications for this new Arabesque pattern.
For years we have been searching for the Arabesque pattern. Reaching out to our perforated metal sources revealed that those that had at one time offered this pattern either no longer had the tooling or it was in disrepair. The addition of our Euromac CNC turret punch machine has provided us with the opportunity to manufacture this pattern ourselves. First, we approached Aries Design with the concept. Our collaboration with them resulted in the creation of a CAD drawing of the pattern. This in turn was then used by Mate Precision Technologies to custom-make the tooling for us. The tooling consists of two main parts: the tool (or punch) and the die. The tool penetrates through the metal into the die. This is a single-hit process, meaning the machine punches one pattern at a time. The tooling is stationary and the material gets moved around by the CNC-controlled arm (please see video). While this is not the quickest method of perforating metal it is more economical than water jet or laser cutting. We are still experimenting with the tooling and at the moment the maximum sheet size we can offer is 36" x 72". Currently, we are offering this pattern on 24 ga galvanized sheets and 16 ga mild steel sheet. Both of these materials can be powder coated and the mild steel 16 ga material can also be plated. This is a custom, made-to-order product and lead times will depend on sizes and quantities.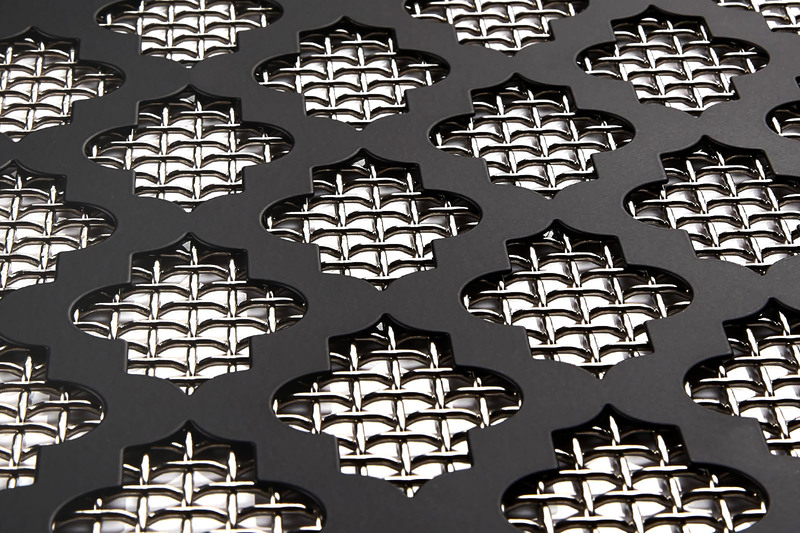 The Arabesque pattern offers an attractive option for cabinetry, millwork, dividers, railing infill panels, privacy screens, etc. Sectors that could use this pattern include hospitality, retail, restaurants and bars, presentation centers, and residential development to name a few. The actual opening of the pattern and percentage of the open area offers an interesting design element allowing for visibility of items behind the pattern. For example, as a liquor cabinet door insert, allowing one to view the bottles inside the cabinet. The transparency or openness can be varied by introducing an additional layer of weavemesh behind the Arabesque pattern. We offer brass, bronze, copper and stainless steel options with a range of spacings and percent open areas.
We invite you to contact us if you have any questions about our new Arabesque pattern or any of our other design-perforated patterns. We will continue to expand our line of design perforated metal products. Please contact us if you have a project with a unique design pattern in mind. Samples of our Arabesque pattern are available on request.
Contact form