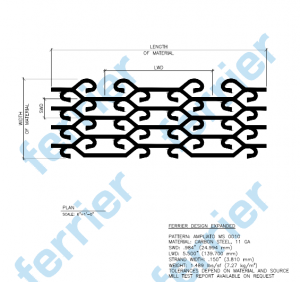 Lunch and Learn Presentations
April 19, 2018
Interested in learning about expanded metal, perforated metal and wire mesh? Ferrier Wire's lunch and learn presentations are one hour long and fulfill the OAA CEU requirements. We typically schedule them on Thursdays and are currently booking presentations in May and June.
Topic: An introduction to expanded metal, perforated metal and wire mesh.
Content is as follows:
Very brief introduction to Ferrier Wire and history.
Expanded metal – An explanation of how it is manufactured and the difference between raised versus flat expanded metal, a discussion about the specification of expanded metal and details to be aware of when doing so.
Perforated metal – An explanation of how it is manufactured and specified.
Wire mesh – How weldmesh and weavemesh are manufactured. An in depth discussion on how both products are specified.
Cost analysis – A discussion of the cost of each product and comparison between the three products.
Applications and projects - Presented to give an idea of how these products can be utilized in practice.
Finishing options – Powder coating and plating options are discussed along with costs and benefits associated with each.
Sustainability - Recycling of these products is discussed.
Extensive use of samples and specification sheets are given throughout the presentation to make sure that participants have a clear understanding of the subject matter. A detailed summary is emailed after the lunch and learn so that all of the information is readily available.
We can also customize these sessions to suit your needs. For example, if you feel that a one-hour long presentation is too much or are looking for something a little less we offer:
A coffee and learn – for those looking for a short session
A presentation focusing on a specific type or family project
Please contact us if you have any questions about our lunch and learn presentations or would like to schedule one.
No comments yet...
*** Your email address will not be published.
Contact form