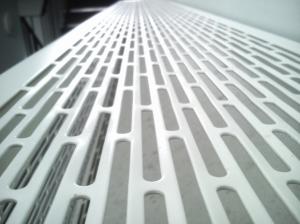 Perforated Metal – A Strong Light Weight of a Metal Wire
June 02, 2016
Perforated metal is a thin metal sheet that has been punctured, either manually or electronically, to create a pattern of holes. This pattern of holes is typically round, oblong, or diamond. This thin sheet is usually manufactured using a variety of metals like galvanized iron, stainless steel, brass, copper, and aluminum. Perforated metal can be entirely functional, or functional and decorative.
Perforated metal has the capability to control the movement of air, gas, liquids, light, heat and sound. It is also lightweight and durable and, therefore, easy to handle. This metal sheet's ability and characteristics are the reason why it is utilized in an array of industries like aerospace, architectural, automotive, chemical, electronics, energy, food processing, furniture, hospitality, manufacturing, medical, mining, petrochemical, retail, telecommunications, and utilities.
Let's take a look at some of the varying uses of perforated metal in a couple of these industries.
Aerospace. Aerospace companies have widely used perforated metal in fuel filters and air filters of their jets. Interestingly, perforated metal has been an effective component in noise reduction of aerospace jet engines.
Architectural and Construction. Architects and builders have found this kind of metal sheet effective in creating durable screens, balustrades, acoustic panels, stair treads, ventilation grilles, and pipe guards, among other things. They have also praised this metal wire for offering them flexibility and uniqueness in their design. They tend to find it useful in creating airy façades for the buildings and commercial facilities.
Automotive. Automotive companies discovered the strong and lightweight characteristics of this metal sheet appealing. The material has been a valuable constituent of the car's interior and exterior systems. Automotive manufacturers found it as a handy material for the car's air filters, oil filters, radiator grills, muffler exhaust guards, ventilation grids, and the like.
Chemical. The chemical industry recognized the importance of the metal sheet's longevity and sustainability in the manufacture of important parts, such as filters, pulverizers, tubes, cathodes, and others, in its operations.
Energy. Base panels for electricity distributions boards, water screens, electricity cable trays, and electric switch cabinets are some of the materials that have incorporated perforated metal.
Electronics. The electronics industry has used this sheet metal in making racks and ventilation grids for electronic products. They also turn to this material in manufacturing the back panel of electrical cabinets, as well as data storage units.
Food processing. The food industry has discovered the countless benefits of this metal sheet in differing ways – from beehive construction, fishing, cheese making, baking trays and so many others. This sheet metal has been a crucial item in making juice presses, cheese molds, coffee screens, and grain dryers.
There are almost infinite possibilities with this type of metal sheet wire. Industries, thus, continue to discover the varied uses for this material – making it very valuable.
My husband replaced our wood fence doors with a nice woven wire mesh. It stands up to the dog and the kids, and it looks great!
Posted by: Amanda | January 5, 2017, 10:01 am
*** Your email address will not be published.