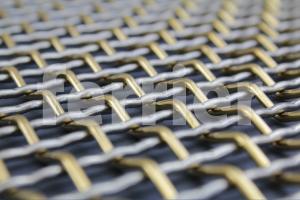 Product Spotlight – Bronze Mesh
May 29, 2018
Over the last few years, we have noticed a dramatic increase in demand for bronze weavemesh. In response, we have created a few bronze and bronze combination meshes. We have also brought in finer bronze mesh patterns that we cannot weave here at Ferrier Wire.
C220 (commercial) Bronze possesses a rich, warm and pleasing bronze colour. It is an alloy consisting of approximately 90% copper and 10% zinc. It is not as bright (or gold coloured) as C260 brass or as red as C110 copper.
Ferrier Wire has developed and is weaving in house the following two design patterns:
Doppio BRO.75 – An addition to our family double weave patterns and recently used in a casino.
Miscela 2 x 2 – Our combination of bronze and stainless steel already used in David Hawksworth's stunning restaurant, Nightingale, in Vancouver, British Columbia. Read more about how this pattern was used

here

. It was recently used in the

Firestone staircase railing

relocated and renovated in the Ottawa Art Gallery.
In addition to these design weavemesh patterns, we have brought in the following bronze weavemesh patterns:
Bronze weavemesh, 4 x 4 mesh x .047" dia wire
Bronze weavemesh, 8 x 8 mesh x .028" dia wire
Bronze weavemesh, 20 x 20 mesh x .016" dia wire
These are attractive options for use in millwork and cabinetry for residential, commercial, and restaurant applications.
Please see the images below. Find the specification sheets for these products here:
For more information please contact us directly!
No comments yet...
*** Your email address will not be published.
Contact form