Blog
Blog
Ferrier Wire and Design Metals offers a wide variety of wire mesh (weavemesh and weldmesh), perforated metals (design and round hole pattern) and expanded metals for use in a wide variety of industrial, architectural and design applications. Please contact us to see if we can assist you with your requirements and or would be interested being the subject of a blog post.
Product Spotlight: Louvre Expanded Metal Mesh
November 10, 2021
Product Spotlight: Louvre Expanded Metal Mesh
Louvre expanded metal, commonly known as Louvre Mesh, has recently become a popular and sought-after product that Ferrier Wire and Design Metals offer. Over the past year, we have supplied Louvre expanded steel mesh for three different retail applications, with one of these having the potential to be reproduced Canada-wide. This metal's applicability is quite versatile, a current project we are working on involves aluminum Louvre expanded metal mesh that is to be anodized to match the colour of curtain walls.
Given the increased interest Louvre expanded metal mesh, let's explore some of its key benefits, manufacturing process, and applications.
Benefits of Louvre Expanded Metal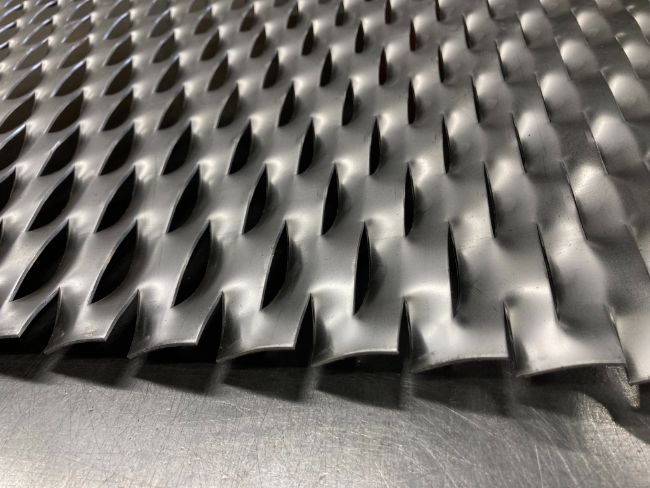 Aluminum material is highly durable.
Aluminum weighs less than the steel version.
Wastes less material compared to perforated metal.
Often more economical than other options.
Stronger than standard wire mesh.
Why is it called Louvre Expanded Metal?
The word Louvre refers to shutter-like angled strips of glass or wood in windows and doors that allow light and air to enter a room while keeping the rain out. Louvre expanded metal mesh also consists of angled openings on the metal surface that form a diamond-shaped pattern. When these expanded metals began to be utilized in windows and door frames, they became known as Louvre mesh/expanded metal.
How is it manufactured?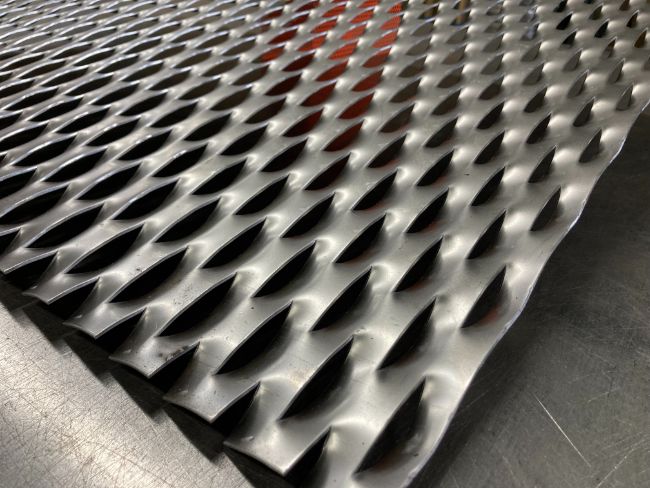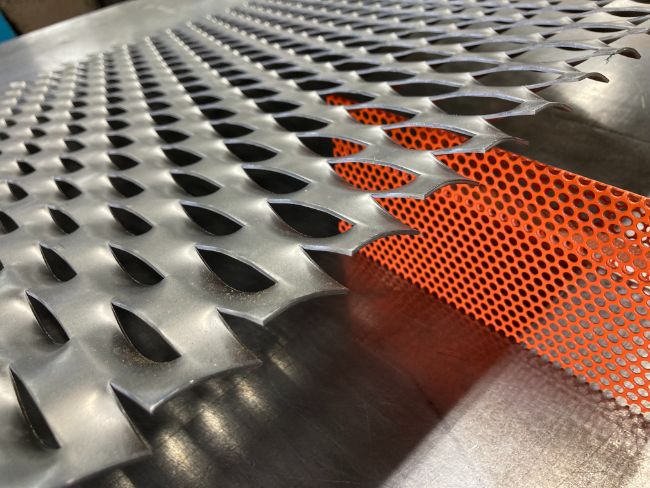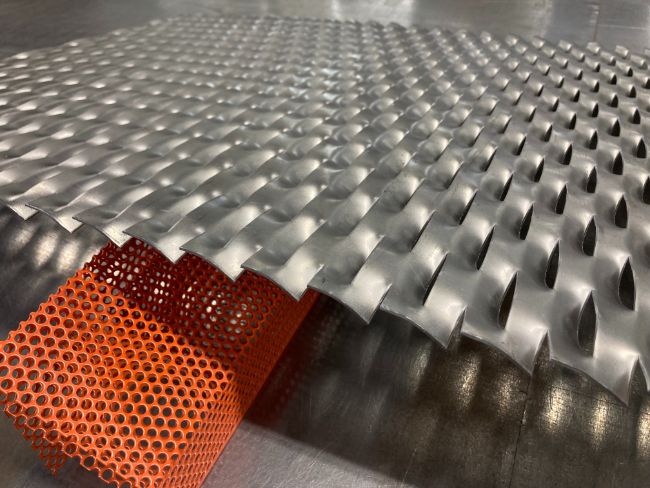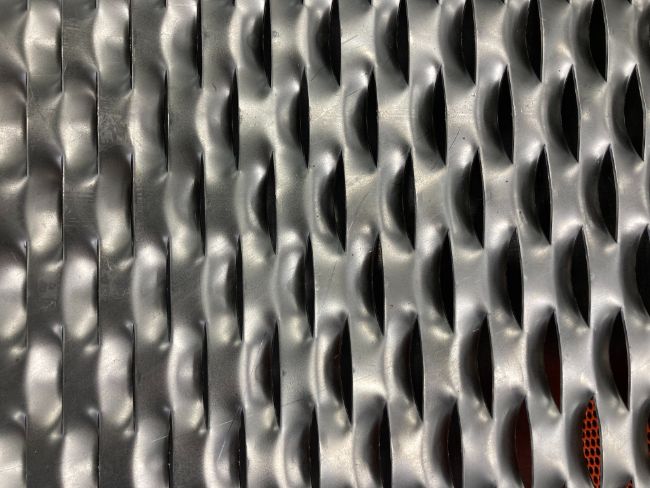 The process of manufacturing Louvre expanded metal mesh starts with a sheet or coil of steel being fed into a press where the tooling cuts and expands the metal as per the pattern specification input. The tooling keeps moving by one-half of the pattern across the steel surface, repeating the process of slitting and stretching the metal. The end-product that we receive is called raised or standard Louvre expanded metal and consists of slightly raised patterns. When this standard expanded metal is fed to a levelling roller, the surface is flattened to form a flattened expanded metal.
Here are some industry-based terms to define the design specifications of regular expanded metal:
SWO: Short Way Opening of the diamond pattern
LWO: Long Way Opening of the diamond pattern
SWD: Refers to the Short Way Dimension of a diamond pattern, meaning a shorter distance between the centre-to-centre bond
LWD: Denotes the Long Way Dimension of a diamond pattern, meaning a longer distance between the centre-to-centre bond
Thickness: Refers to the actual thickness of the expanded metal mesh. In the case of a flattened expanded metal, the thickness is defined as the overall thickness of flattened material.
Orientation: Denoted by SWD x LWD (or LWD x SWD) of the diamond pattern. In general, most standard patterns have an orientation of 4' SWD x 8' LWD. If the orientation is the other way it will be stated as 4' LWD x 8' SWD OR 8' x 4'.
Nomenclature: The specs of expanded metal are denoted as a fraction or number representing the SWD, followed by a number representing the thickness. The letter F, if added represents flattened expanded metal, and if there is no letter, it represents a raised/standard expanded metal.
For example: 1/2 - 16F denotes a flattened expanded metal with SWD = ~1/2" and a thickness 16 gauge. The higher the gauge number, the thinner the expanded metal will be.
Applications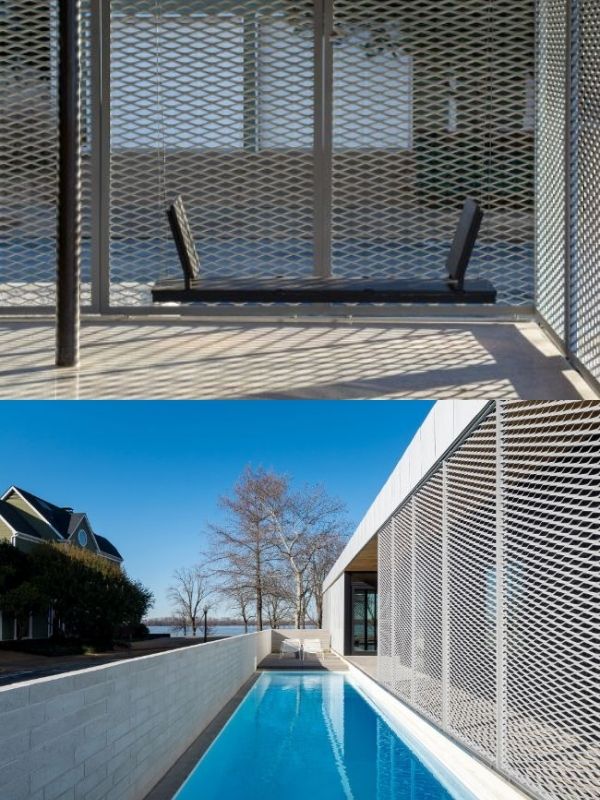 Pattern: Apex Manufacturer: Amico Architectural Metals
Design applications in retail, restaurant and commercial projects
Sun shade
Privacy screen
Heavy versions can be used as fencing and barrier material (cut resistant)
Powder Coating Options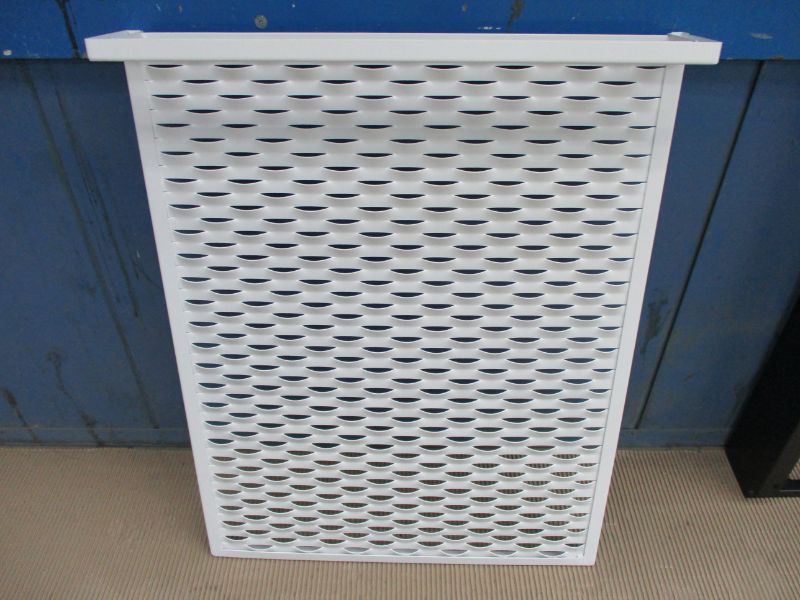 Ferrier Wire offers powder coating options to add colour to regular steel Louvre expanded metal. The powder coating process involves applying dry powder by electrostatically charging the powdered particles to deposit onto the surface of the Louvre expanded metal mesh.
As mentioned earlier, we also offer anodizing of aluminum Louvre expanded metals to add protection, durability and colour. This process involves submerging the aluminum material into an acidic bath and passing a current through it. This electrochemical process converts the surface of the material into a durable and corrosion resistant finish. Colour pigment can be added to the process.
For more information about finishing options, please view our finishing blog.
Overall, Louvre expanded metal mesh offers interesting options to add attractive aesthetic elements to architectural and design products while still providing practical qualities. For more information, please email us at: info@ferrierwire.com
Contact form