Blog
Blog
Ferrier Wire and Design Metals offers a wide variety of wire mesh (weavemesh and weldmesh), perforated metals (design and round hole pattern) and expanded metals for use in a wide variety of industrial, architectural and design applications. Please contact us to see if we can assist you with your requirements and or would be interested being the subject of a blog post.
Project Spotlight: Ferrier Wire Reactor Screen
May 03, 2021
Project Spotlight: Ferrier Wire Reactor Screen
Early in the year, Ferrier Wire was contacted by a refinery on the Canadian East Coast to see if we could supply a reactor screen. We have fabricated these screens in the past but typically they have been much smaller in size, in the 100" – 150" size range. This time, the refinery asked us to fabricate one that is 246" (20'-6") dia. The only way that we could supply a screen this large in diameter was to take several strips of stainless steel mesh, overlap them and attach them to each other. The refinery wanted the overlapped seams to be spot welded but in this case this method was not feasible due to the large size of the screen. The mesh would not fit into the throat opening of any spot welder. We proposed a method that we had utilized in the past: overlap the strips of screen 2" and then tie the screen with 2 pieces of tie wire every 2" along each seam. They agreed and placed the order.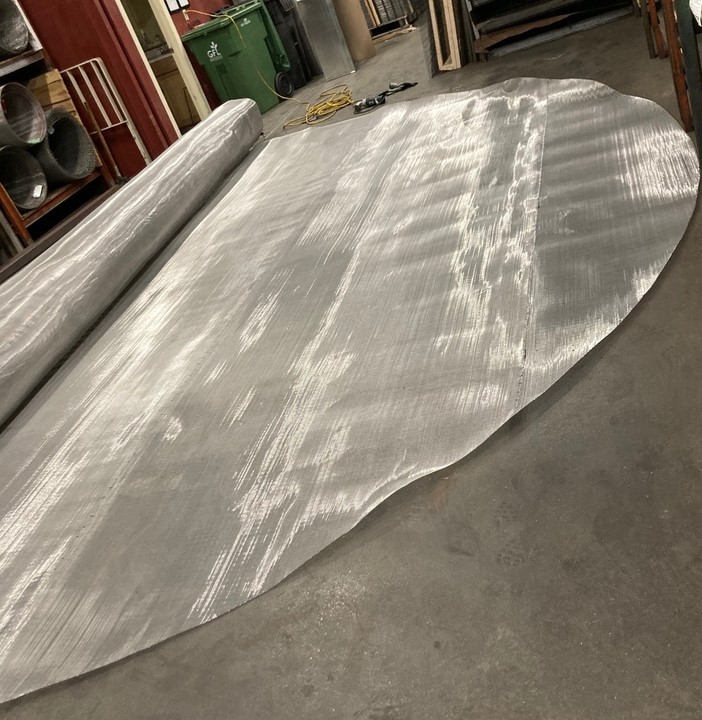 The mesh was a stainless steel type 316 grade weavemesh 10 x 10 mesh x .025" dia wire.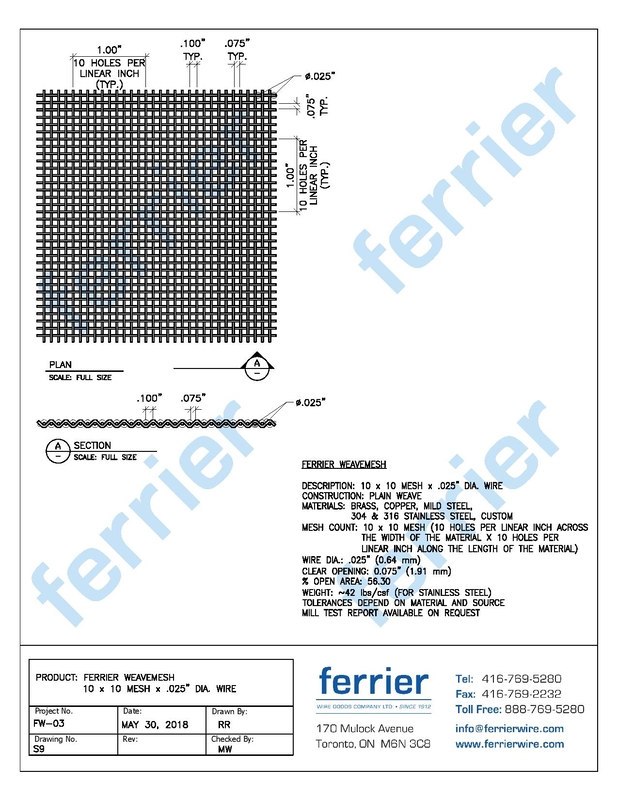 The tie wire was also stainless steel type 316 material. We took 5 strips of mesh 60" x 248", overlapped them and started tying. The entire tying process took two employees 4 days to complete. Now the next challenge was how to cut this large sheet of stainless steel mesh into a 246" dia circle. We moved the very long tube of mesh to another section of our building and rolled out half of the material flat on the floor. Now we were able to mark the proper diameter and cut the mesh. Once the first half of the circle was cut, we rolled it up and unrolled the other uncut half, marked and cut it.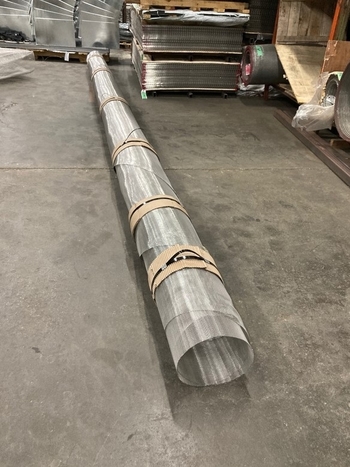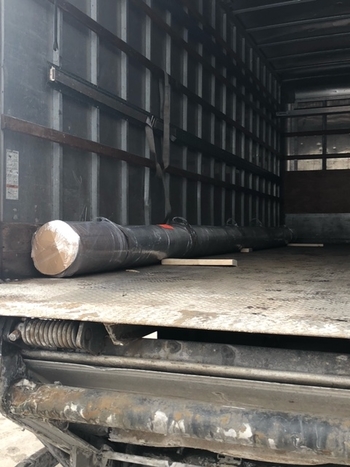 This process took 2 days to complete. Finally, the circle was rolled up, plastic wrapped and then strapped to create lifting handles for transport and installation.These reactor screens are used to hold catalyst in reactors and is typically laid on either heavier mesh, perforated metal or bar grating for support.
Please contact us if you have any questions about this product or any of our other products and services.
Contact form