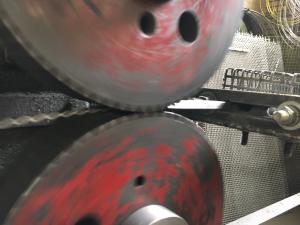 Project Spotlight: Manufacturing Weavemesh
July 12, 2017
In March 2016, Ferrier Design completed a weavemesh piece for award-winning Canadian restaurant Nightingale. It can be found in the dining area of the restaurant as a privacy screen and divider. Initially, each hole in the weavemesh was requested to be smaller than 3/16 of an inch. However, we proposed a coarser mesh constructed out of bronze and stainless steel.
Manufacturing weavemesh requires precision and attention to detail. Here is a glimpse behind the scenes at the process.
We begin by running a piece of 304 stainless steel wire measuring 104" in diameter through our crimping machine. This machine crimps the wire to produce an intermediate crimp. Long wires known as weft are created in the mesh.
The weft are fed into the loom.
The crimping machine tooling is changed to crimp the short (warp or shute) wires. In this case, the wire was a C220 bronze .The 104" diameter wire and the crimp is plain.
The combination of the intermediate crimp in the stainless steel wire and the lack of the intermediate crimp in the bronze wire add to the interesting texture to the mesh.
The short (warp or shute) wires are fed into the loom, which advances the mesh after each wire is inserted into the loom to weave the mesh.
Finally, the mesh is pre-cut into larger pieces as it comes out of the back of the loom. It is then sheared down to the final required pieces.
The final weavemesh we created for the Nightingale restaurant is a 2 x 2 mesh (2 holes per linear inch in each direction) using a .104" diameter wire. It has a 0.396" clear opening with a 62% open area. Woven from C220 bronze and 304 stainless steel, the piece complements the décor while adding an elegant finish.
Learn more about this project by reading Ferrier Design's latest blog.
Click here to browse our wide range of design weavemesh products.
Your spec sheets are fascinating!
Posted by: Lucy | December 18, 2017, 10:30 am
Love your selection of decorative expanded metal!
Posted by: Joy | December 4, 2017, 3:07 pm
Happy with the 1.00 square pattern I bought for my infill panel!
Posted by: Marc | November 17, 2017, 11:57 am
*** Your email address will not be published.
Contact form