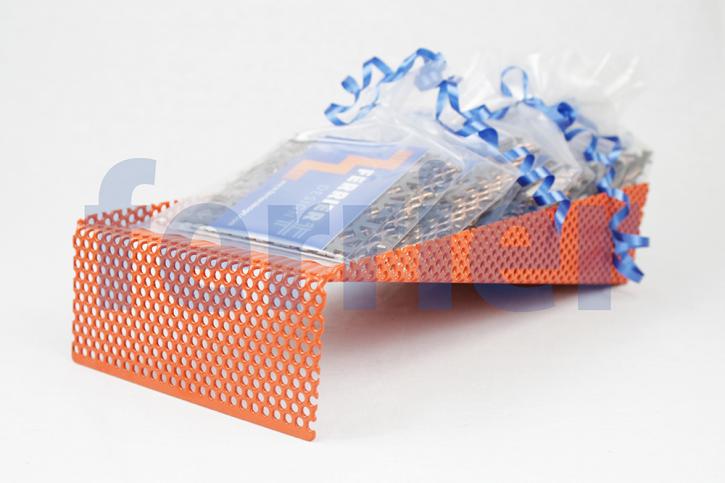 Project Spotlight: Stainless Steel Meets Stilettos
August 10, 2017
In midtown Toronto on Yonge and Eglinton sits a boutique devoted to women's footwear and handbags. Among the selection of stilettos, sneakers and sandals you will find two carefully crafted and polished pieces by Ferrier: stainless steel wire in the form of weavemesh.
In 2015, we produced a custom shelf using stainless steel wire and brass. More specifically, we used the products below:
Ferrier Design weavemesh
Pattern: Zeta 1
Material: mild steel (unfinished)
(images 1-2)
Ferrier Design weavemesh
Pattern: 2 x 2
Material: C260 brass
C260 .5 x .5 x .080 weavemesh (images 3-4)
These products were woven in the same fashion as the mesh in our previous posts, with wire crimped by a crimping machine, fed into the loom and then woven.
The project was led by designer Kelvin Kellman. He envisioned a Grille Wall of mesh as a focal point to display featured products. We wove three large Zeta 1 panels: two were welded together and the third was supplied separately. This was done as if all three panels were welded together, as they would not have fit through the entrance of the Boutique.
For the purpose of this project, we built a custom fixture on our shop floor to achieve the radius required. We then fabricated a steel flat bar frame for the top and bottom of the Grille Wall. We custom built the movable shelves hanging on the Grille Wall using perforated metal and stainless steel wire. The shelves are designed to elegantly showcase the footwear and accessories carried by this boutique.
The C260 2 x 2 brass mesh was custom woven to size and then installed by the millwork fabricator into the front of the curved counter as a beautiful detail. It provides a contrasting colour and further adds to the chic décor.
To learn more about Designer Kelvin Kellman and Kelvin Kellman Architecture, click here. For inquiries please email kelvin@kelvinkellman.ca.
To learn more about the C260 2x2 brass and copper weavemesh, click here.
To learn more about the Zeta 1 stainless steel wire weavemesh, click here.
To read about the weavemesh manufacturing process, click here.
I really like the idea of these lootbags! So creative and memorable!
Posted by: Laura | December 18, 2017, 10:27 am
*** Your email address will not be published.
Contact form