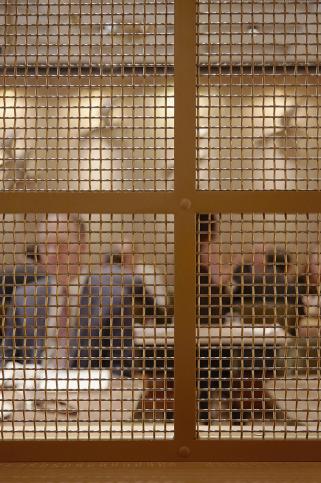 Project Spotlight: The Nightingale Restaurant
July 11, 2017
Last March, Ferrier Design completed a project for the critically acclaimed Canadian restaurant Nightingale. We were approached by interior design firm Studio Munge to create an architectural woven wire mesh to be used as a privacy screen and divider for the dining area of the restaurant. Initially, each hole in the mesh was requested to be smaller than 3/16 of an inch. However, we proposed a coarser mesh constructed out of bronze and stainless steel.
The final architectural woven wire mesh is a 2 x 2 mesh (2 holes per linear inch in each direction) woven from a .104" diameter wire. This leaves a 0.396" clear opening with a 62% open area. Woven from C220 bronze and 304 stainless steel, the piece complements the décor of the restaurant while adding an elegant finish.
Studio Munge was recently shortlisted for the best Restaurant and Design Award in the Americas Restaurant category for their work in Nightingale. This award is given by The Restaurant and Bar Awards, a globally recognized competition dedicated to the design of food and beverage spaces.
In operation since May 2016, Nightingale is located in Vancouver, British Columbia and is run by Chef David Hawksworth. The establishment is praised for its modern take on fine dining and farm-to-table, local approach to fresh ingredients. Nightingale sits at number thirty-one on Canada's 100 Best Restaurants 2017 list, chosen by an esteemed panel of food critics and restauranteurs.
The architectural woven wire mesh in the Nightingale restaurant is an example of the work done by Ferrier Design. We specialize in design weavemesh, decorative wire mesh panels, perforated and expanded metal products that can be used for a variety of applications.
To learn more about the Miscela 2x2 weavemesh, click here.
To learn more about Studio Munge, click here.
To learn more about Nightingale, click here.
No comments yet...
*** Your email address will not be published.
Contact form