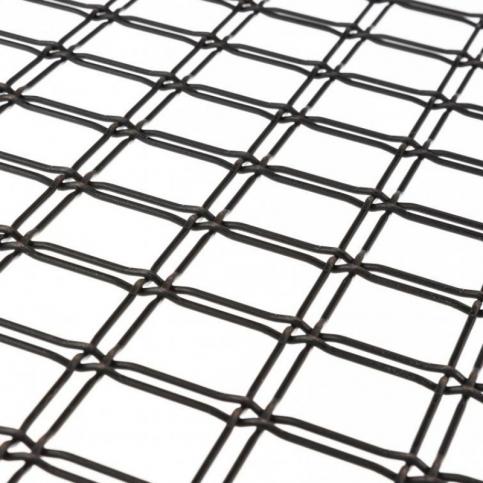 Two Types of Wire Mesh: Overview, Uses and Benefits
September 30, 2021
Steel wire mesh is a grid structure formed by connecting metal wires together at symmetrical points in a criss-cross pattern. Wire mesh is commonly used to reinforce concrete, masonry, and roofing. It is also widely used in cabinetry, infill panels, storm drains and kitchen inserts.
Two varieties of wire mesh should be noted before we explore its applications:
Two Types of Steel Wire Meshes
Welded Wire Mesh
A welded wire mesh is made by arranging the steel wires in a perpendicular pattern and welding them at the intersections. Each wire is first drawn out to the precise length and diameter in accordance with technical specifications, and then fed into a machine that connects rows of perpendicular wires together by welding them along the same distance. This step is repeated until a firm grid network is formed.
Woven Wire Mesh
Unlike welded mesh, this type of wire mesh has no welds to join the wires together. In this case, a machine similar to a loom weaves the wires together. First, a wire of specified dimensions is inserted into the machine. In the most common weaving designs, this wire is then bent over and under another wire to form a sturdy weave that can withstand high pressures of its applications.
Applications for Wire Meshes
Grills: Welded wire grills are designed to be more durable than other types of grills. Welded wire grills typically have a thicker metal frame with a thin layer of metal surrounding the outside. This metal layer is usually welded onto the mesh frame, which helps prevent dents or tears in the grill.

Fences: Steel mesh is one of the common choices for manufacturing both commercial and residential fencing. The material is durable and can withstand various environmental factors, including high and low humidity levels and drastic temperature fluctuations. It usually does not rust, so there is less need for maintenance.

Cages: Stainless steel wire mesh is a good option for cages, as it is sturdy and can hold up against various pressures. It can be used in a home, outdoor enclosure, or even in a commercial setting.
Apart from the practical uses of wire meshes in day-to-day life, they are often used in architectural projects to add aesthetic elements to the design. We will explore the multiplicity of these uses in future articles.
No comments yet...
*** Your email address will not be published.
Contact form