Blog
Blog
Ferrier Wire and Design Metals offers a wide variety of wire mesh (weavemesh and weldmesh), perforated metals (design and round hole pattern) and expanded metals for use in a wide variety of industrial, architectural and design applications. Please contact us to see if we can assist you with your requirements and or would be interested being the subject of a blog post.
Types Of Metal Finishes Offered By Ferrier Wire
November 02, 2023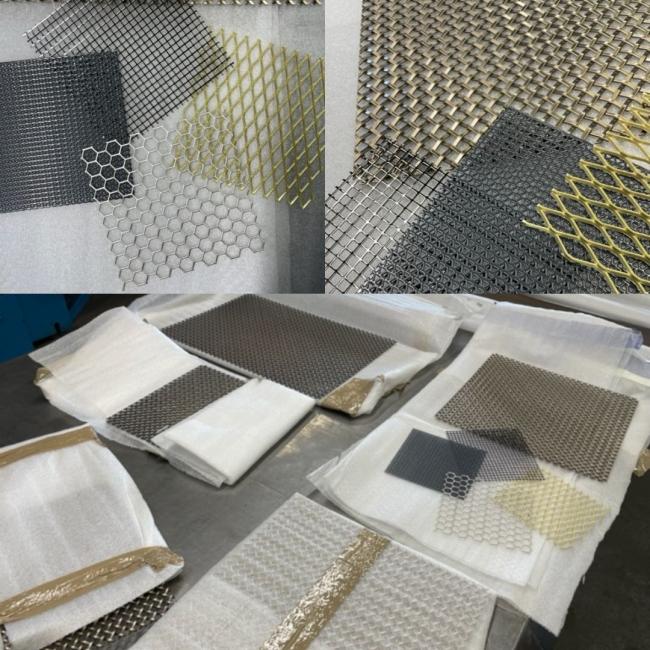 Ferrier Wire And Design Metals offers four types of finishing for its products. All materials using mild steel require a degree of finishing to prevent corrosion. The finishes can also be applied to other metals.
4 Types Of Metal Finishes
Paint/Clear Coat:
It involves the application of paint or clear lacquer to maintain the natural colour of the metal. The matte finish is highly recommended for the lacquer. Before applying this coating, it's necessary to clean the product. Our expanded and perforated metals have a light coating, and the weave mesh has a layer of wax or drawing compound on the surface. Remove this coating using Varsol or some variety of mineral oil. Rub the perforated metal/wire mesh with a green emery pad if mild rusting is present, then coat it with Varsol. After the cleaning, the paint or clear lacquer can be applied.
Powder Coating:
In this process, a layer of powdered paint is coated on the surface of the metal and baked to adhere it completely. It is a sustainable process as unfinished powder can be reused again. However, powder coating is very different from wet paint. Many companies specialize in powdered paint. They carry a colour chart so clients can choose from around 15-20 popular, in-stock colours. Lastly, it is more expensive than wet paint but is more practical for metals used in outdoor applications. Ferrier Wire sends partners with a third-party facility to carry out powder coating for our clients.
Plating:
Plating is an extensive process wherein the metal is first cleaned in an acid bath, followed by applying a layer of nickel to it. Then the desired metal finish is added on top (copper, bronze, or chrome). After the layer is added, it requires manual relieving to achieve the desired final finish, that is bright, antique or satin finish. Due to the intensive nature of the process, it is the most expensive of all finishes and is best suited for internal applications.
Also, antique brass or copper plating, offered by Ferrier Wire via a third-party facility, is only suitable for some weave wire mesh types and is unavailable for expanded metals and perforated metals.
Clients opting for plating with our trusted partner can avail of these three options:
- Platte Noir- Oil Rubbed Bronze
- Lammin Messing - Antique Brass
- Lammin Kupfer - Antique Copper
Anodizing:
An electrochemical process where the metal surface is coated with an anodic oxide finish to improve durability and corrosion resistance. The metal can also be coloured by adding a dye to the process. However, similar to powder coating, the colours are limited. Lastly, anodizing is only available for aluminum products.
Contact form