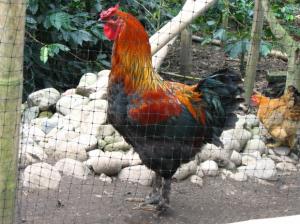 Useful Info About Chicken Wire
June 23, 2016
The most common use of a chicken wire mesh is in protective fencing for poultry, though it is also a common type of mesh seen in various other applications, which is not something people are usually aware of. This article will discuss the basic features of chicken wire, its advantages and disadvantages, types and sizes available, as well as other important facts that might be of use to the reader.
Chicken wire is a type of mesh composed of metal strands that are woven into each other. One of the most important advantages of this type of mesh is that it is most effective when used as a fence for poultry – hence its name, chicken wire. The fence is installed in order to protect the poultry from any outside predators as well as to prevent them from getting out. Aside from installing it as a poultry fence, it can also be used in other applications. In case you decide to make a permanent chicken coop, the wire mesh may serve as a foundation or the material for base before pouring out the concrete.
Though it serves an important role in the poultry industry, low quality chicken wire can bring a number of disadvantages to the owner. For one, low quality wires can easily be damaged and torn by predators. Another disadvantage is an easy accumulation of rust, and the consequent need to replace low quality wires on a frequent basis to ensure that the poultry has maximum protection.
Chicken wire is available in different sizes. The smallest size is one-fourth of an inch up to two inches or around 5 cm. Other sizes can also be bought such as one-half of an inch up to an inch. It is important to note that the safety of the chicken inside the fence is dependent on the size of the fencing mesh used. If you opt to buy wire mesh that has bigger sized strands, then it is possible for smaller paws or hands to reach into the fence and harm the poultry. Therefore, it is important to note that the smaller the size of the wire mesh you choose, the safer your animals will be.
When purchasing, the most common length of the pre-cut chicken wire mesh is around 10 feet. The longest it can be cut into is 250 feet. This is why it is important to know the length of the fencing needed before going out to buy. Measure everything before buying in order to save time and effort.
You need a portfolio that features applications of your products. Just a thought :)
Posted by: Lina | February 27, 2017, 7:19 pm
Window shades!
Posted by: isaac | January 19, 2017, 10:25 am
*** Your email address will not be published.