Blog
Blog
Ferrier Wire and Design Metals offers a wide variety of wire mesh (weavemesh and weldmesh), perforated metals (design and round hole pattern) and expanded metals for use in a wide variety of industrial, architectural and design applications. Please contact us to see if we can assist you with your requirements and or would be interested being the subject of a blog post.
Customer Profile: Stoa Design Collective
February 19, 2019
Customer Profile: Stoa Design Collective
The functional and decorative applications of our products allow us to work with a number of outstanding industry professionals. Stoa Design Collective is a reputable newcomer to Toronto's interior design scene, boasting a number of accolades despite operating for just over two years. Established in 2016, Stoa Design Collective is known for creating and curating inspiring yet sophisticated interiors for Toronto's booming hospitality industry. The company name pays homage to the era of ancient Greek architecture. It was during this time that the term 'stoa' was used to describe a place where innovators and creatives would congregate to exchange ideas.
Founding partners Olga Evstifeeva and Jennifer Nicevski bring nearly two decades of interior design experience to Stoa, with both senior designers having completed projects under esteemed design firms across North America. The collective experience of both founders serve to further inform Stoa's ability to design timeless spaces and enrich guest experiences while staying true to their client's brand.
The Stoa process is known for maximizing the potential of any space, regardless of angles, reconstruction, or age. Attention to detail and authenticity are definitive marks in their approach to creating beautifully designed solutions. Their design process expands on the potential for decorative and functional utility suited for business mainstays within Toronto's hospitality industry. From concept to execution, Stoa's comprehensive design process speaks to their ability to draw aesthetically pleasing intrigue in alignment with the needs of their client's brand.
Authentic South African Design in the Toronto Beaches
Decorative wire is subtly nestled in some of Stoa's most notable designs. The company gained notoriety for one of their award-winning spaces in Toronto's Beaches.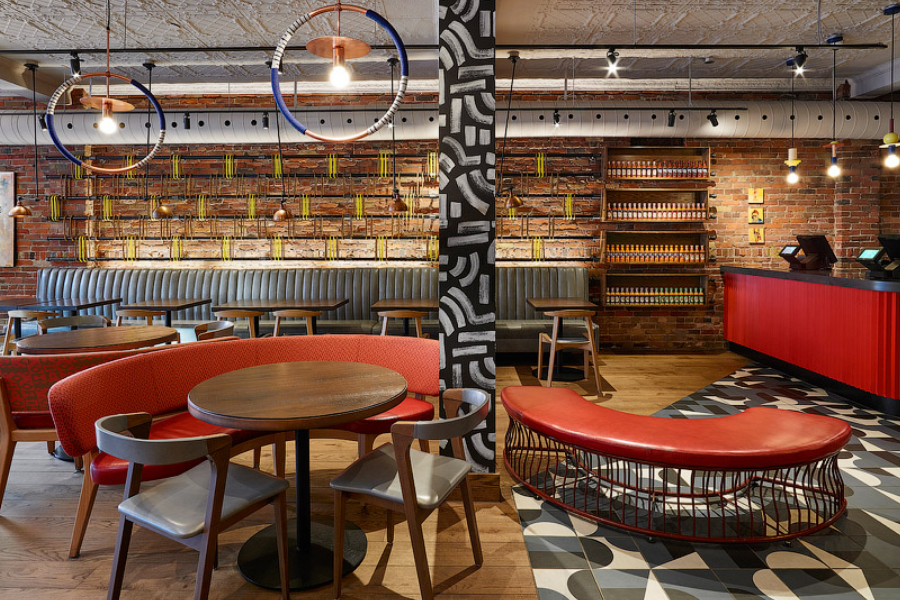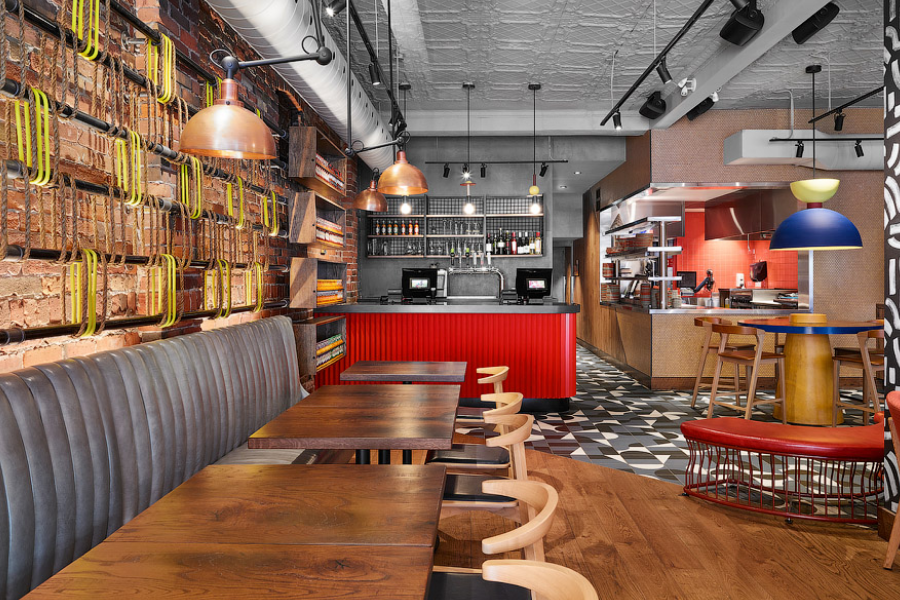 Stoa's design for Nando's Queen East was recognized as an award-winning project in 2018 by the Association of Registered Interior Designers of Ontario, and was featured in the Hospitality Design Magazine's October 2018 edition.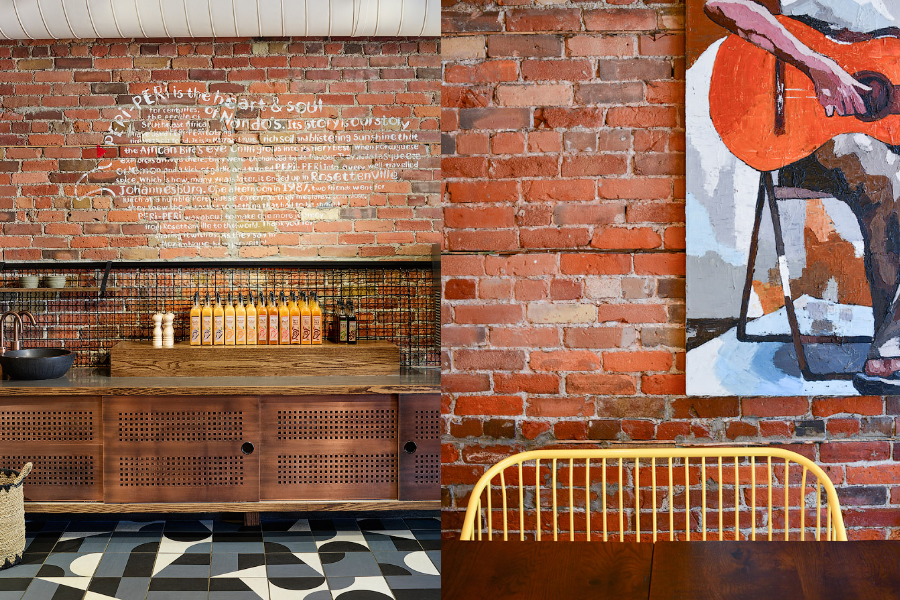 Traditional yet purposeful, their design embraces South African culture in their emphasis of bold colour and shape. Staying true to the authenticity of Nando's origins, Stoa incorporated traditional South African woven techniques and items sourced from South African craftsman.
Instilling South African inspired vibrancy with the more rustic aspects of the space – such as the original exposed brick and tin ceiling – work seamlessly to highlight the laid-back vibe that is characteristic of the tight-knit Toronto Beaches community. Stoa's design beautifully embraces the colourful personality of the Johannesburg-based Nandos Flame Grilled Chicken, in which great food meets great design.
Minimalist and Refined Design at Fleet's Food
Stoa's design for Fleet's Food is reminiscent of your classic pantry-style kitchen, but with a contemporary twist. Much like the saying 'the kitchen is the heart of the home', the sightlines of Stoa's design peer into the minimalist, refined kitchen through functional large-scale shelving displays.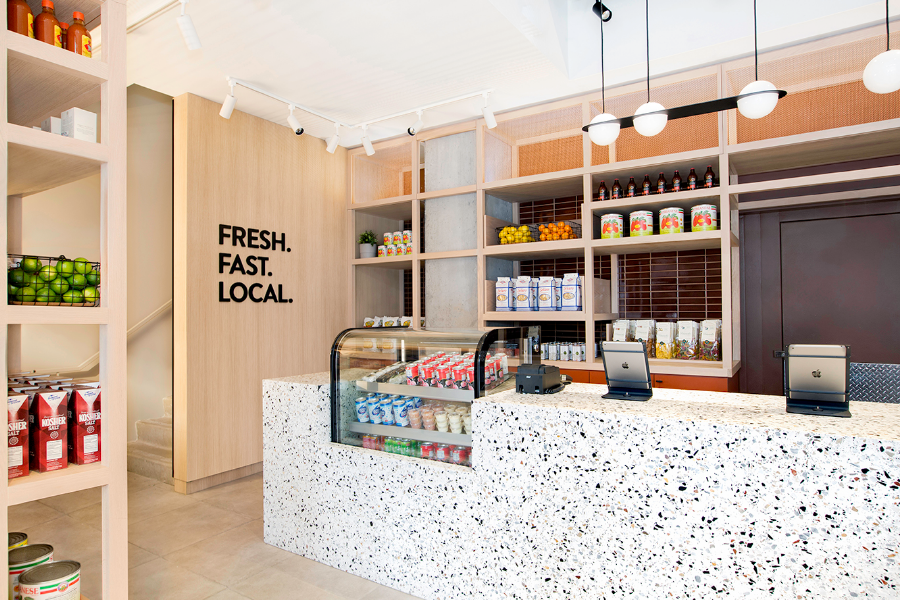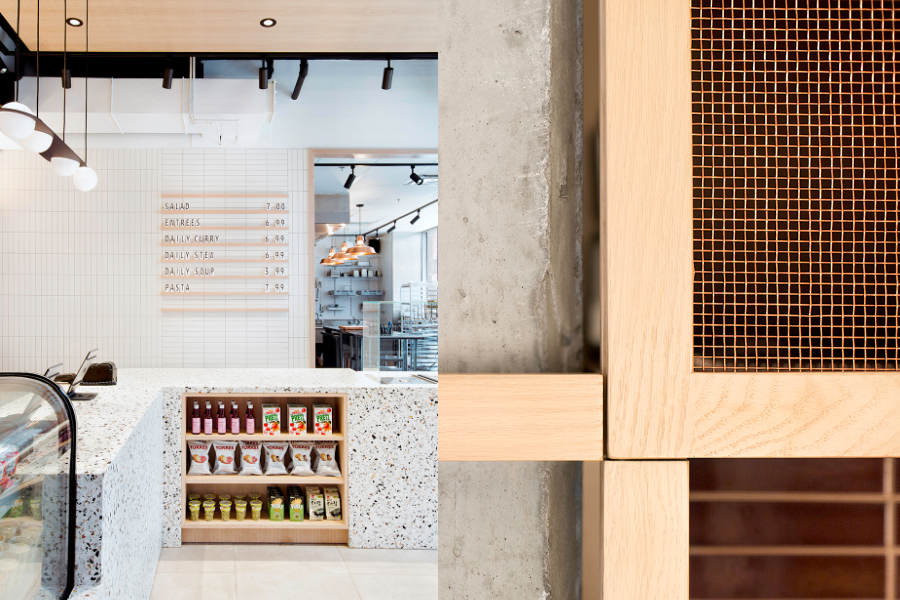 Fleet's Food is known for using fresh ingredients to create familiar and unforgettable dishes, and Stoa adheres to those principles in their design. Glazed earthy textures are prevalent throughout and serve to speak to the traditional craft of cooking and cooking well.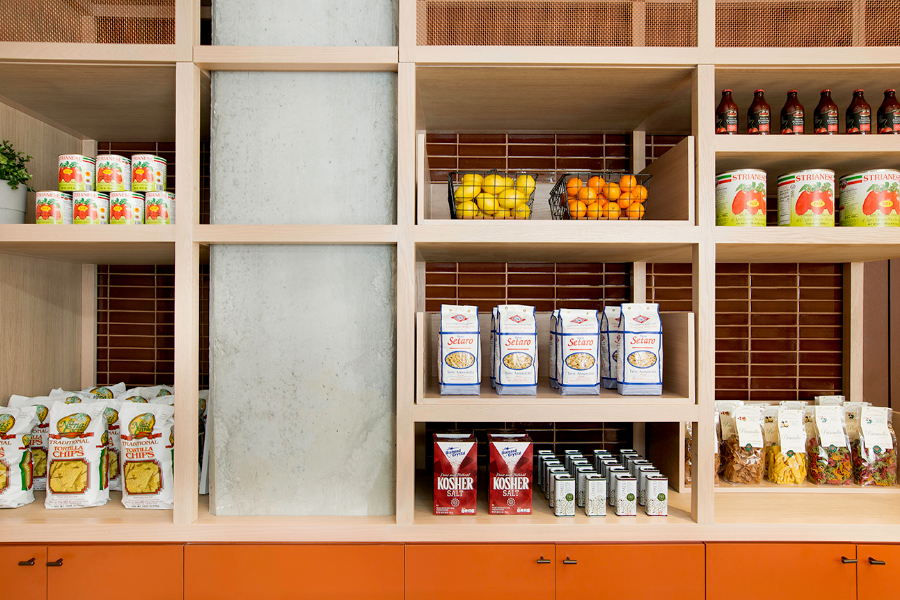 We are humbled by Stoa's utilization of our products as decorative components in their designs within Toronto's hospitality industry.
If you're interested in learning more about Stoa Design Collective and their work, you can check out their website here. If you're interested in learning more about the applications of our decorative wire mesh, you can check out our products page here.
Contact form