Blog
Blog
Ferrier Wire and Design Metals offers a wide variety of wire mesh (weavemesh and weldmesh), perforated metals (design and round hole pattern) and expanded metals for use in a wide variety of industrial, architectural and design applications. Please contact us to see if we can assist you with your requirements and or would be interested being the subject of a blog post.
Perforated Metal Parking Sign
September 30, 2019
Perforated Metal Parking Sign
As a continuation to our Toronto series, we are showcasing perforated metal applications in and around downtown Toronto.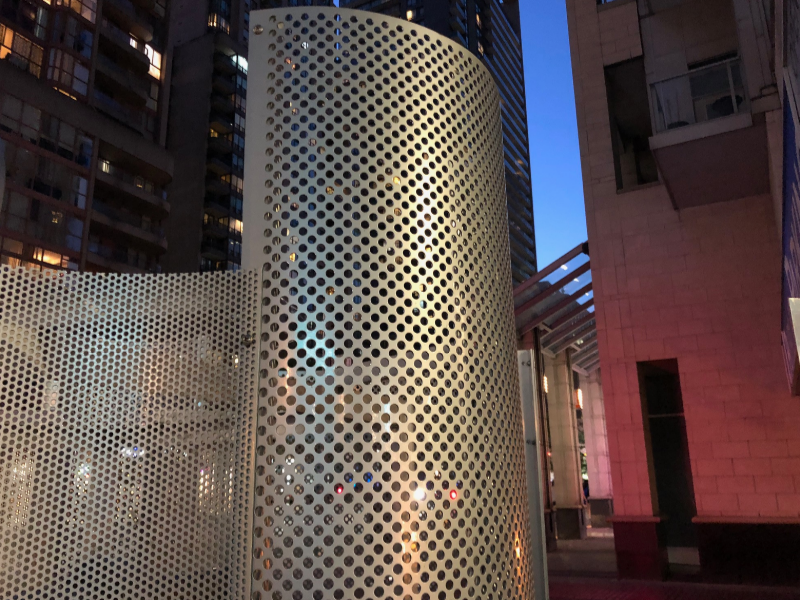 These images in particular showcase an attractive application of perforated metal to enhance the appearance of an underground parking garage sign located at Bay and College.
The perforations in the metal offer additional utility other than simply adding aesthetic value to the fixture, as it screens some of the unsightly mechanical components at this location. The use of different hole diameters offers a unique, visual intrigue as the perforations overlap to create a moiré pattern.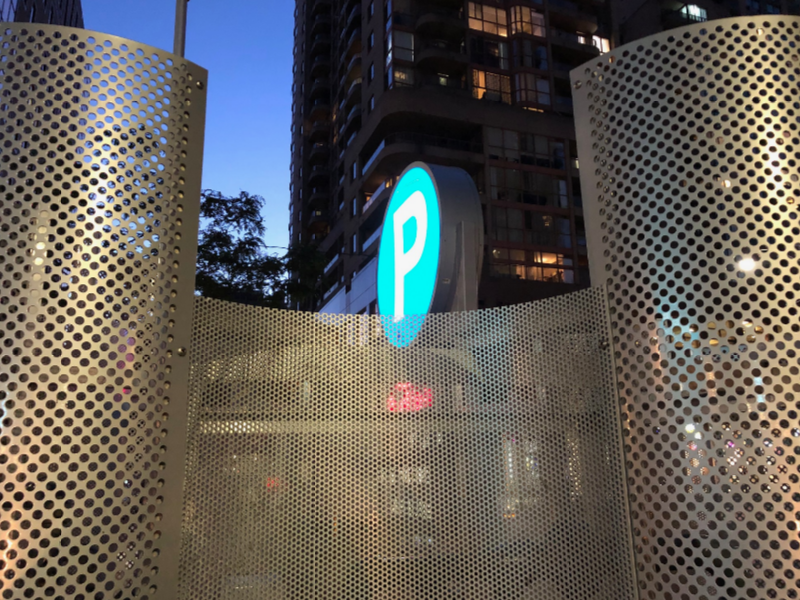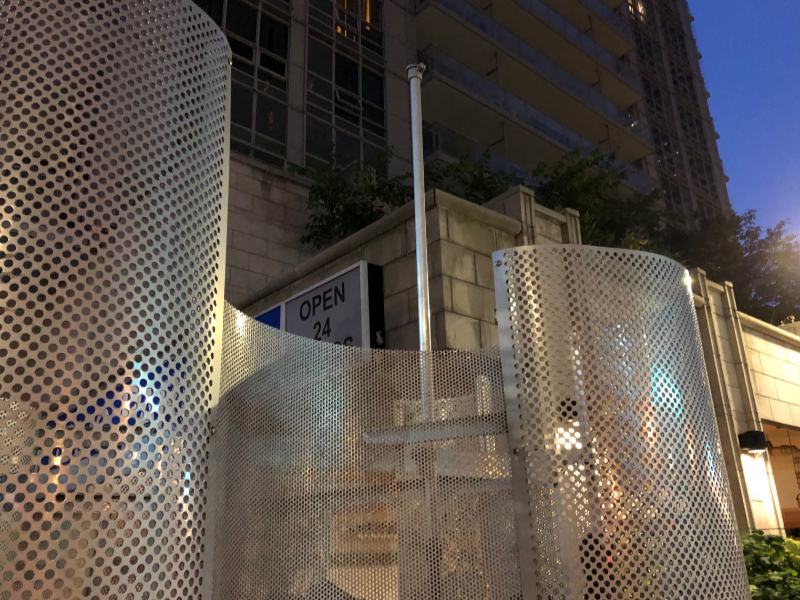 In this installation, perforations were achieved using large metal panels where the larger hole was custom punched. We can deduce this based on the full margin (solid edge) which is fully visible around the edge of the perforated sheets. This feature allows for a clean and safe appearance due to the lack of sharp edges.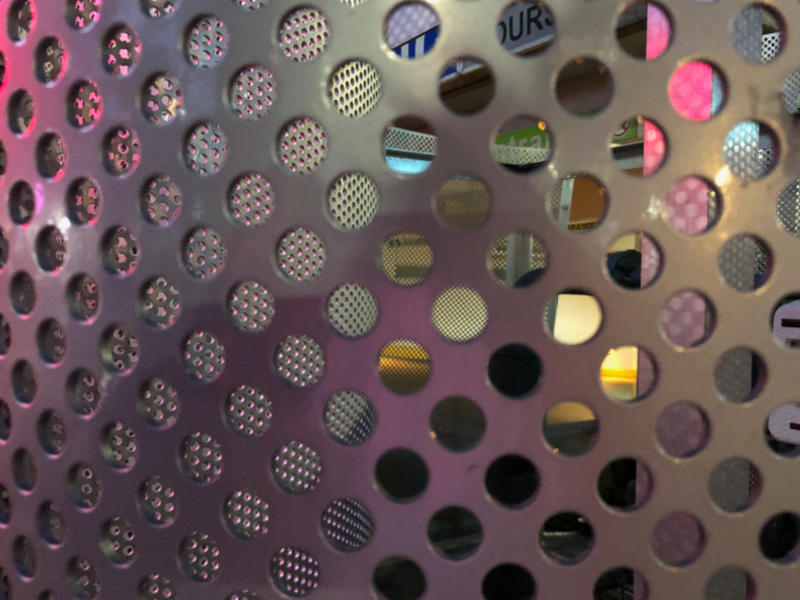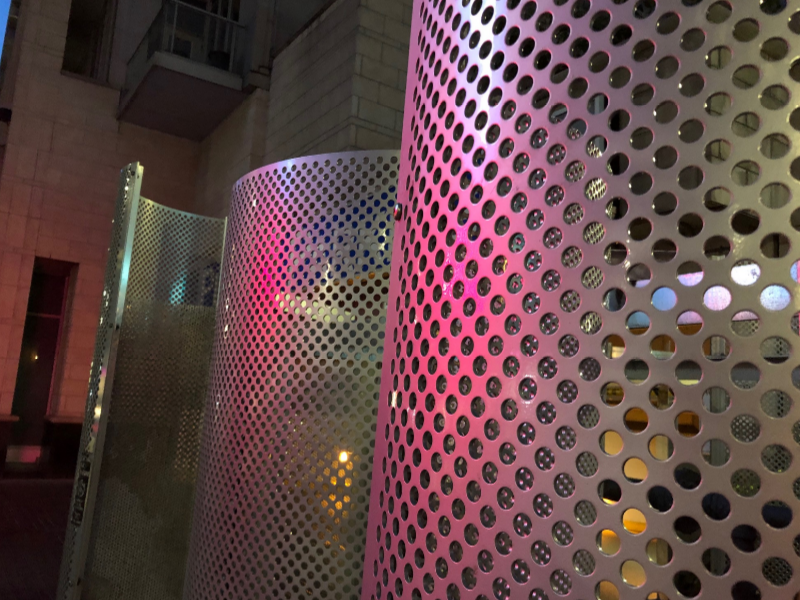 The most economical material to use would be plain mild steel metal, which would have to be powder coated or finished to prevent corrosion – especially in instances where exposure to road salt would be an issue. Aluminum and stainless steel are also possible options as they both provide excellent corrosion resistance, and can be powder coated or anodized (in the case of aluminum) if a particular colour is desired. Aluminum is more cost-effective and lighter in weight when compared to stainless steel, which could contribute to the decision-making process when selecting an optimal material for other applications.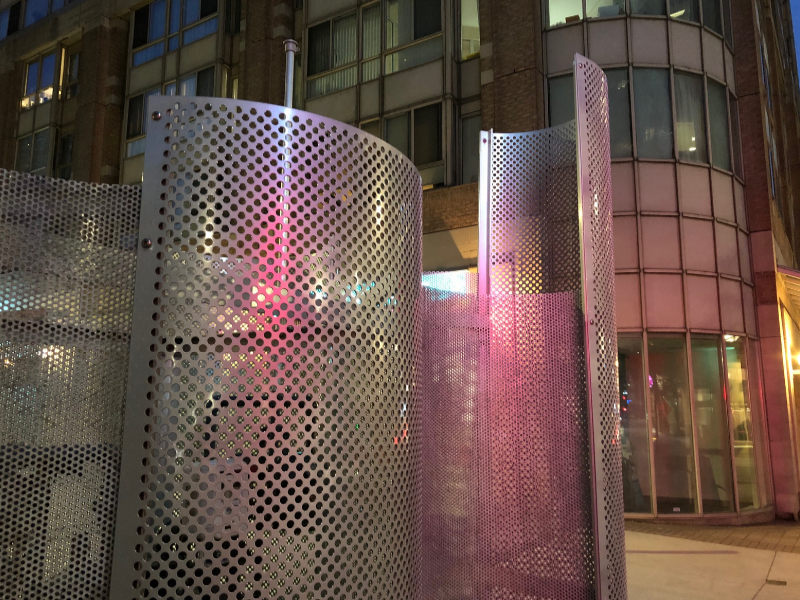 We continue to find perforated metal in both patterned and round hole forms used in more and more design and architectural applications. Found in restaurants, hospitality, public spaces, retail, institutional and commercial sectors as ceiling panels, signage support, millwork detail, railing infill panels, and more – it's clear that metal perforation effectively contributes to elevating certain design elements.
Please contact Ferrier Wire to see if this or one of our other products may be an option for your project.
Contact form